DET # 41:
Studio Teacher's Guide to Organizing their Classes
September 4, 2018 - Olivia Mode-Cater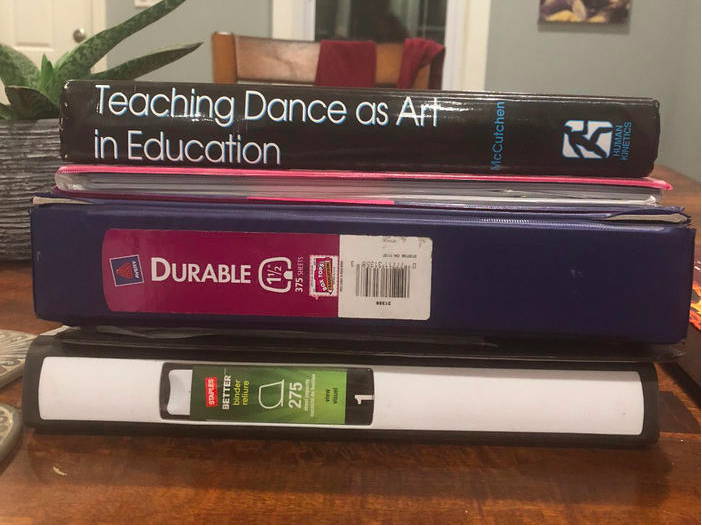 About 2 years ago, I was only teaching at dance studios. I was averaging between 22-24 different dance classes per week! It was a lot, but I know for studio teachers this kind of load is quite common. I knew that I wouldn't be able to rely on my memory or my dancers to remember everything we had done the week before, so I had to figure out a system that worked to help me keep track of all my classes. Therefore, I created my own dance studio binder, which is shown above. I highly recommend studio teachers to make one of their own in order to keep themselves organized this year.
Here are some Dance ED Tips on how to keep your binder organized:
1. In your binder, create a section for each class that you will be teaching. Each section should have a clearly labeled tab with plenty of loose leaf.
2. Put the classes in the order that you are teaching them. Therefore, the classes that you teach on Monday are at the front of the binder and your weekend classes are at the end. This will allow you to work your way through the binder each week and after each class you can just flip to the next tab without having to go searching for it.
3. Use tabs that have a built-in folder so that you can keep your class rosters in them. This will allow you to quickly take attendance.
4. Write out each exercise you choreograph. Figure out a notation system that works for you, so that reading your notes will jog your memory.
5. If you are revisiting exercises you did previous weeks, add all the dates in the top corner of the page so that you know how many times you have repeated them.  
6. Write down the name of the song you performed the exercises to. This will save you time if you end up repeating the exercise next week.
Let me know how this works you! I know it was and still is a life-saver for me!
Happy teaching!
Olivia