Dance ED Tip #87: Dance ED Tips is hiring a Video Editing intern!
January 7, 2020 - Olivia Mode-Cater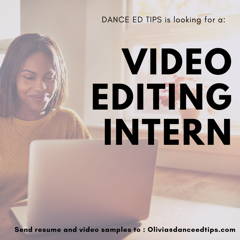 Who we are:
Dance ED Tips is a cutting-edge dance education brand that creates products, resources, and online courses used by dance educators in all sectors across the world.
What we are looking for:
Dance ED Tips is seeking a video editor for Spring 2020 to edit and produce social media videos, product videos, product demonstrations, and videos for our online courses. As a member of our team, you will have an immediate impact on our business. You will see your ideas comes to life and your contributions put to immediate use. This position reports directly to the Founder.  This is an unpaid internship with the potential to become a stipend position. We offer college credit, professional references, and the freedom to work remotely.
Primary Responsibilities:
> Receive a brief for the video concept

> Edit video content for

IGTV and online courses

> Assemble and manipulate our videos in a way that is always on-brand

> Assist in developing video concepts to shoot

> Lead video projects from idea to delivery
Required Qualifications:
> Dynamic editor with experience in basic animation and titling.

> Self-starter requiring minimal supervision.

> Ability to prioritize, multi-task and meet deadlines.

> Self-motivated with attention to detail.

> Displays a consistently positive and professional attitude.

> Dance and dance education background preferred, but not required.