Dance ED Tip #68: One-Day FUNday Camps
May 28, 2019 - Andrea Trench
Bring excitement and additional revenue to your studio with one-day camps!
These events can be sprinkled throughout your season, during holiday breaks, or over the summer months. Offering a one-day camp allows new students the opportunity to learn more about the overall experience they can expect if they decide to further their dance education at your studio. For current students, these camps are bonus events to add to their regular dance schedule and the perfect occasion to invite non-dance friends. Students also have the opportunity to explore a new dance style they may not experience weekly.
By approaching these camps conceptually, you can create gender-neutral and developmentally appropriate lessons that will welcome all abilities and genders. Pairing each dance concept with a theme and specific style of dance, will create an experience that is unique, creative, and FUN!  
FUNday Ideas
| | | |
| --- | --- | --- |
| Theme | Dance Style | Concept |
| Under the Sea* | Creative Dance | Size |
| Around the Campfire | Creative Dance | Relationships |
| Jammin' in my Jammies | Jazz | Level |
| Jungle Boogie | Jazz | Place |
| In my Garden | Ballet | Body Shapes |
| Christmas in July | Ballet | Energy |
| Dino Rock | Hip Hop | Weight |
| At the Big Top | Acro | Direction |

*Example lesson plan below.
Under the Sea
Recommended Ages 3-5 (90 minutes)
5 minutes Welcome/Introductions/Expectations
20 minutes Warm-Up:
Freeze Dance with scarves (Suggested Music: Freeze Dance, Kids Dance Party)
BrainDance with Circle Stretches (Suggested Music: Rio Loco and Lucia, Kate Kuper)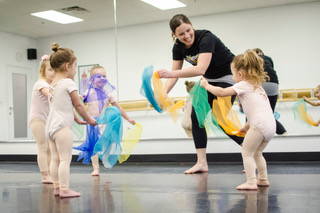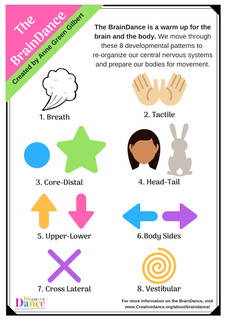 10 minutes Explorations:
Introduce the Concept of SIZE (Big and Small)
When we dance, we can dance BIG like an elephant or SMALL like a mouse. Stretch everything away from your belly button and show me how BIG you can stretch your arms and legs. How about your eyes and your mouth? Say "BIG". Now, show me how you can squeeze everything in towards your belly button and curl up SMALL. Don't forget to squish your face and make it SMALL too. Say "SMALL". Great! Let's explore SIZE together!
*Explore the Concept with giant stretchy band (Suggested Music: Who Can Pull the Stretchy Band?, Music with Mar)
*Explore the Concept (Suggested Music: Xylophone-Soft and Loud, Music for Baby)
Fish Bowl or Ocean: Create a circle with stretchy band or cones. When music is soft, everyone dances small inside the circle (fish bowl). When the music is loud, everyone dances big all around the dance space.
10 minutes Development:
Obstacle Course (Suggested Music: Under the Sea, Samuel E. Wright and Part of Your World, Jodi Benson)
Station 1 (Balance) Prop Suggestion: Balance Beam
Station 2 (Gross Motor) Prop Suggestion: 5 Poly Spots (2 colors)
Station 3 (Spatial Patterns) Prop Suggestion: 2 Hoops and 1 Poly Spot
Station 4 (Concept Exploration) Prop Suggestion: Tunnel
Center activity (Suggested Music: Ready, Steady, Go, Sticky Kids)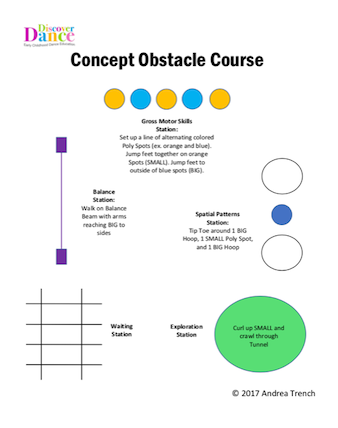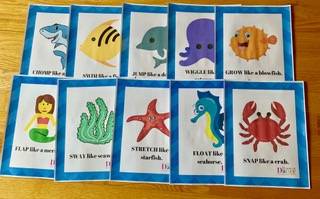 20 minutes Break/Craft/Performance Rehearsal:
Break for water and restroom.
Pony Bead Fish
Performance Rehearsal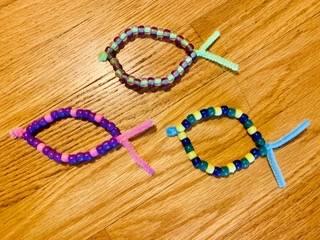 5 minutes Performance for Audience:
Favorite Exploration Activity

Under the Sea Choreography

 
5 minutes Wrap Up:
Encourage families to enroll in upcoming camps, classes, and workshops. Offer incentive if they sign up before they leave the one-day camp.
---
Andrea Trench is a dance educator with over 20 years of teaching experience. Holding a B.F.A. in Dance from the University of Illinois at Urbana-Champaign, Andrea specializes in early childhood dance education as well as modern dance. She is the co-founder of Elite Dance Academy in Homer Glen, Illinois as well as the owner of DiscoverDance Early Childhood Dance Education.