Dance ED Tip #61:
How to Reignite Your Creative Spirit
March 26, 2019 - Shannon Dooling-Cain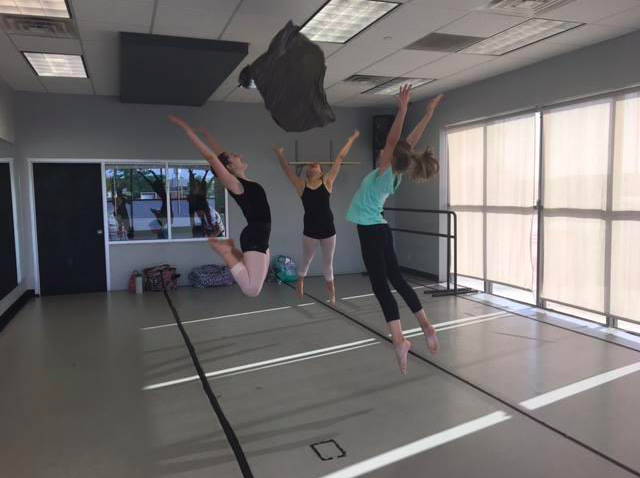 I have a confession to make: I didn't start out my career wanting to be a dance educator. Choreography was my passion, and I dreamed of becoming the next Paul Taylor or Pina Bausch. I started teaching because it paid the bills, but it didn't take long for me to realize that education was what truly made my heart sing.
I still find myself wanting to indulge my choreographic impulses beyond the typical class combination or recital piece, however. I think many dance teachers would agree, but it can be all too easy to neglect our artistry when there are lessons to plan, costumes to select, schedules to manage, and myriad other curricular and administrative tasks that can feel like they are sucking the creativity out of our careers.
A few months ago, I remembered a graduate school choreography assignment. Our instructors, Sara Pearson and Patrik Widrig, presented us with a series of prompts to make short dances, one a day for at least a week. At the time it felt totally overwhelming, but in retrospect I found myself remembering these daily creative explorations fondly. I was inspired by this memory to create my own series of choreographic exercises, from which I could create short, informal "dancettes" in my living room. I wanted the experience to feel playful and fun, and to reignite my love of making movement, without worrying if it was any good. In that spirit, I called the prompts my "Choreography Adventures."
These weekly challenges offered a way for me to reconnect with my creative side and rediscover my choreographic dreams. The prompts take different forms. Some are based on compositional principles, others are task-oriented, and still others allow for open-ended movement exploration.
Here are just a few examples:
-Create a dancette that uses high, mid, and low levels, with unexpected transitions between each.
-Make a barefoot dancette on an unusual surface – a bed, grass, gravel, sand, dirt, slick linoleum, scratchy carpet, etc. How does your movement style change?
-Find a "flaw" in your creative space, such as a crack in the wall, a gap in the floor tile, a watermark, or scuff marks. Use the flaw as inspiration for your dancette.
After a few weeks of Choreography Adventures, I was reinvigorated. The practice allowed me to flex my choreographic muscles, push my creative limits, and make a small stash of dances that I can draw from when I feel "choreographers' block" coming on. The effects found their way into my teaching practice: I was creating more interesting class combinations, I had more inspiration for student choreography, and I was all around just more excited to be in the studio with my students.
I've also found that the Choreography Adventures can be useful as a teaching tool. The prompts can be used in a number of ways, with students of all ages and skill sets:
-As "get-to-know-you" games at the beginning of the season
-As warm-up exercises for technique, improvisation, or composition classes
-As inspiration for improvisation
-As methods for teaching elements of dance composition, such as level and speed
-As vehicles for exploring technical concepts, such as spiral and weight shift
-As team-building exercises, when done in pairs or groups
-As informal assessment tools - a way to figure out students' comfort levels, technical and compositional abilities, social or creative challenges, etc.
Because the prompts are playful and fun, they allow for students to engage in creative exploration without intimidation. Because they are open-ended, they allow for students to explore in a way that is safe and appropriate for their own skill level and personal development. Because they are not genre-specific, they can be used in classes of any dance style - even ballerinas need to flex their choreographic muscles from time to time!
It's important as dance teachers that we foster a creative spirit, both in ourselves and in our students. The Choreography Adventures allow me to do just that! You can find my prompts on my
blog
and my
Instagram
account, or you can create your own. Inspiration for your prompts can be found anywhere, from the pages of a magazine to the view outside your bedroom window. Invite your students in on the fun and have them make and share their own prompts! It can be a great community-building activity and a way for them to take ownership of their creative practice. Whatever you choose, I invite you to share your dancettes on social media using the hashtag #ChoreographyAdventures. Let's get inspired - together!
---
Shannon Dooling-Cain was born in New Mexico, grew up dancing in the suburbs of Philadelphia, and moved to Arizona in 2016 after spending six years in the Washington, D.C. metro area. She holds an MFA in Dance from University of Maryland College Park and a BA in Dance from DeSales University in Pennsylvania. She danced professionally with several regional ballet and modern dance companies in Pennsylvania and New Jersey. Her choreography has been showcased at venues from New York City to D.C. and in Arizona, including the Triskelion Arts Center (NYC), the Baltimore Museum of Art and Clarice Smith Performing Arts Center (MD), Dance Place and The Atlas INTERSECTIONS Festival (D.C.), and Tempe Center for the Arts and the Tucson Museum of Art (AZ). She has taught ballet, jazz, modern, contemporary, improvisation, and dance history in colleges, K-12 schools, community centers and dance studios, and is also licensed to teach the Progressing Ballet Technique method. The author of several articles on dance education, including a feature article for the U.S. Department of Education Arts in Education Newsletter, Shannon also maintains a blog at www.shannondoolingdances.com.   Since moving to Arizona, Shannon has served as a faculty member, guest teacher, and adjudicator at studios, colleges, and schools, and is a performer and choreographer with Movement Source Dance Company.