Dance ED Tip # 53:
3 Recommended Apps for Dance Teachers (Part 1)
January 22, 2019 - Olivia Mode-Cater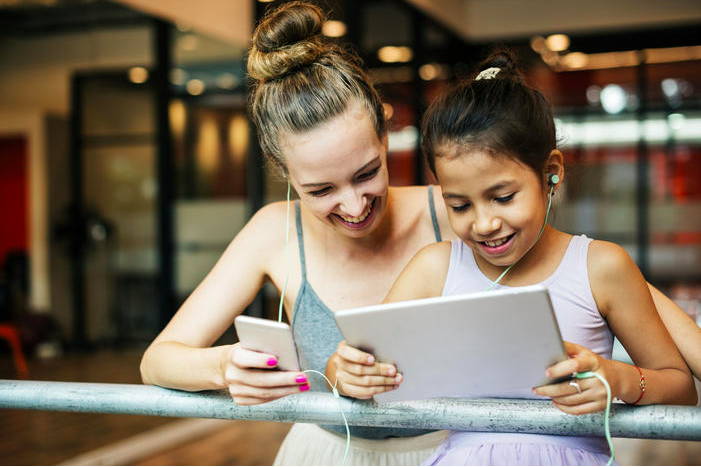 Last semester I taught a course at Hofstra University called "Educational Technology in Dance Education."   For the students' final project, I had them research and do a presentation on an app or website designed to help dance educators.   On the day of the final I was impressed with the students' findings and today I am going to share some of them with you. So, if you're looking to make your life easier check out Hofstra's dance education majors' top 3 recommended apps. Stay tuned for their top 3 recommended websites in a few weeks!
1. BarreNotes
One of the main challenges for dance teachers is finding music that is the right tempo. That is why Elianna Perdik, BA Dance major at Hofstra ​University, decided to do her project on BarreNotes! She explains, 'I decided to choose this app because after reflecting on my years growing up as a dancer I remember so many times when my teachers would try to speed up or slow down songs during warm up exercises or even when running dances, […] but it wasn't always so easy to do. With the BarreNotes app, you can easily sync your iTunes library and Apple Music to the BarreNotes library within seconds, and can then select any song you want and change the tempo with the press of a button. This allows for tempo changes in any song without having to put much work in." The best part about BarreNotes is that it doesn't change the tempo of the music! Elianna points out that this will be especially useful "in ballet when working at barre or in center.   A teacher may want to slow down the tempo of the music so that students can analyze their body placement, technique, and movement more in depth. Teachers may also want to speed up the tempo to help dancers move without losing technique, which tends to happen when the music gets faster, especially in tap class." Whatever style of dance you teach, this app is definitely a must-have for 2019!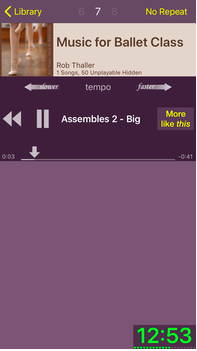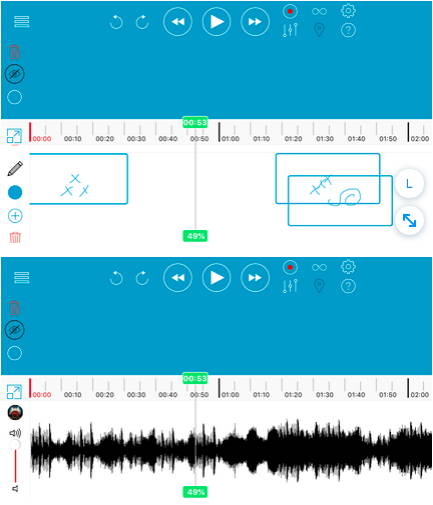 Alyssa "Aly" Ross, junior Dance Education major at Hofstra University, found a new use for the app NoteTracks. NoteTracks was created for producers and DJs; however, it can also be really useful for dance teachers. Aly explains, "The app allows you to take notes and easily add comments to different regions of a song. You can also add sketches and symbols along a song's timeline. With that, one can control the audio and take notes at the same time!" This is a wonderful tool for choreography. Dance teachers can take notes on the music to keep track of various movement sections and formations. They can later share these notes with their dancers so they can rehearse independently. Aly also suggests, "if I assigned a creative project where students have to create a dance, I would have them track their progress through the app and have them send the final choreography to me."   This app can be a great way for students to document their work in a certain class period. This makes students accountable during choreography time, as they know they have to show how they used their time. This app is also great for collaboration. If you are working with multiple classes or other teachers, you can easily map out who is responsible for each section of the dance. This will help prevent gaps in the choreography.  
3. The DanceMaker App
The DanceMaker app is an incredible tool that was designed especially for dance teachers. Anna Paterson, Dance Education major at Hofstra University, explains, "The Dance Maker App, created by Dance Education Laboratory (DEL) helps students and teachers come up with ideas for short dance phrases and improv activities. A user can select a theme and other dance concepts to create dance phrases." Once the dancer has selected action verbs from a theme, they are prompted to add aspects of Laban Movement Analysis and the elements of dance. Then, the app puts it all together to generate a movement sentence for students to choreograph.
Anna admits, "This is a great tool to use when students first start choreographing.   It is also good for when students get stuck. By using this tool, students never get bored with the same activity, while also receiving new creative ways to move and compose." This app is a great way for students and teachers to break out of their comfort zones and to choreograph something that might feel foreign to them.
Anna also points out, "This app is also great for resources. The app has links to the [National Core Arts] Standards and [New York City's] Blueprint for dance. Through the app users can see exactly which one of the standards all of the lesson ideas fit into. I love this tool and I think it can be implemented in the dance classroom in so many ways. DEL created something that is user-friendly and can give a user new and creative ideas."