Dance ED Tip # 29:
Why you should offer a daddy-daughter dance class
May 7, 2018 - Olivia Mode-Cater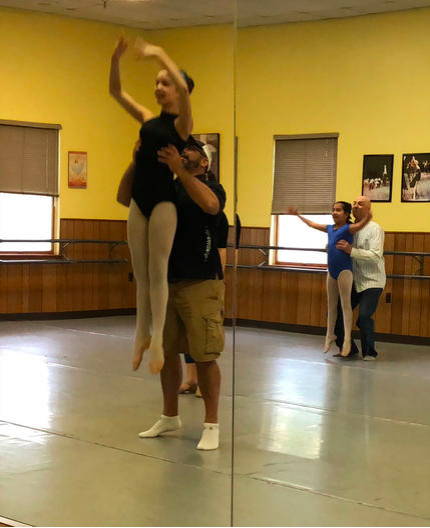 Yesterday, I had the privilege of observing my dear friend Lindsey DellaSerra teach a daddy-daughter ballet class at Moving Youth Dance Company in Cranford, NJ. Lindsey has an incredible way of making all the adults (dads, brothers, grandpas, and uncles!) feel comfortable and she ensures that everyone has lots of fun! It was such a joy to see all of the dancers share this special moment with their loved ones and there were so many beneficial things happening in the room that I had to document them:
1. Opportunity to experience flow with a loved one.
The way that dance classes are structured allows its participants to experience flow, an optimal state where a person's level of skill is equal to the challenge being presented (Csikszentmihalyi, 1990). Lindsey carefully selected material that was within the adults' and children's capabilities so that both groups were sufficiently challenged and could experience flow. In addition, they got to experience flow with a loved one which made the experience really special and memorable.  
2. Great opportunity for partnering.  
Having enough boys to partner the girls can be challenging in normal ballet classes. Lindsey took advantage of this opportunity to allow her dancers the wonderful (and fun!) experience of being partnered.  
3. The child becomes the teacher.
It was so rewarding to see the dancers patiently coaching their loved ones and showing them how hold their arms in 1st position and how to do an arabesque. Traditionally, it is assumed that the adults in the classroom have all the information that must bestowed upon the children. This type of class, however, breaks that stereotype and shows that children have knowledge and skills that can be passed onto adults.
4. Generates appreciation for dance.  
Unfortunately, dance has many stereotypes. One of the predominant ones being that dance is easy and not as athletic as sports. I guarantee you that the adults in the room had a newfound appreciation for its difficulty! You could tell by the sweat on their brows and the looks of deep concentration on their faces that they now understand the strength and endurance that dance requires.    
5. Builds empathy and understanding.  
One of the dads came up to Lindsey afterwards and said, "I totally understand why dancers wear form-fitting clothes now. When you were telling me to keep my pelvis neutral I had no idea whether I was doing it correctly or not because of my baggy t-shirt. I was really tempted to tuck my shirt in to see what was going on!" These kinds of moments are so beneficial because they provide the adults a deeper layer of understanding and empathy for what their dancers do every day. Unfortunately, this kind of empathy usually comes from actually experiencing dance, so it is important that we create classes like this so that we not only help create beautiful memories, but so we also educate our dance community so that they continue to understand and support the Arts.  
I hope that you all have the opportunity to teach or observe a class like this! It really is such a joy to experience.
Happy Teaching!
Olivia

Resources:
Csikszentmihalyi, M. (1990). Flow: The psychology of optimal experience. New York: Harper & Row.