Dance ED Tip #103: Behind the Scenes of Success: 5 Important Takeaways
from A Dance Podcaster

July 23, 2020 - Lauren Ritchie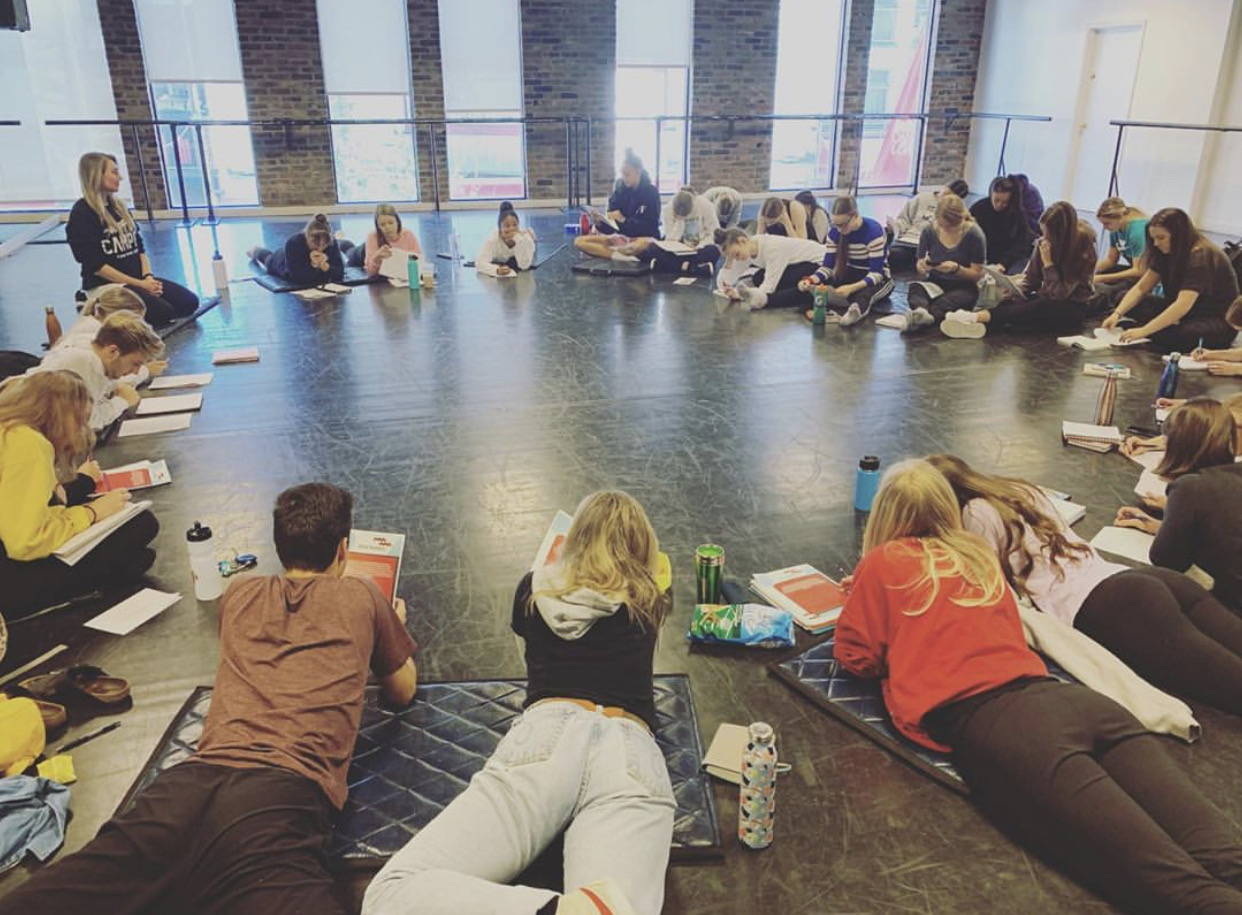 I sat at my parent's dinner table, listening to tWitch, Megan Lawson, Matt Cady and Faye Rauw share their audition war stories and dance industry battle wounds. It was the summer of 2010 and we had just spent a full day together teaching young dancers at a summer camp. Over the week we challenged their bodies, encouraged their artistry, and built up their confidence, only to then share stories about how the industry can quickly tear it all down.
It struck my heart because that was my experience. Before becoming a full-time dance educator, I was a dedicated dancer, training at least 6 days a week, working through the R.A.D syllabus, competing across the country and receiving accolades and awards for my work. There was no question that I wanted to dance professionally, but when I finally graduated high school and made the transition into the professional world, I crumbled. Mentally, physically and emotionally.
As I worked through my own identity crisis, my curiosity began to grow. How did other professionals work through rejection? Did their teachers or parents' guide them differently than mine? How do experts balance the realities of type casting and weight restrictions with artistry and self-worth? How did the people at the top of their industry sustain a long and healthy career?
As I listened to those conversations at my parent's dinner table, and as highly acclaimed professionals spoke their truth and shared the real behind the scenes; I knew I wanted the next generation of dancers to hear that realness. I felt a deep responsibility to open the dialogue with professional dancers so that fellow dancers and educators could hear their successes and failures and dissect what actually contributes to a long, healthy career.
That was the inception of The Dance Podcast. After years of trying to open these conversations, including physically lugging my iMac into dance studios and Skyping professionals from around the world, in 2016 I launched my first episode.
After 122 interviews, and with Season 5 on its way to be released this year, the podcast has become a platform where dancers, educators, mental and physical health providers, choreographers, and industry experts come to share their stories and expertise with listeners around the globe. Regardless of their profession, there continues to be consistent themes and conversations that inevitably emerge within each individual's story.
Love The Process, Not The Result:

Simple to say, yet not always easy to do. It's easy to get caught up in who booked what job or to get hung up on the one you didn't get. You can easily focus on how many followers you do or don't have. Our culture prompts us to focus on the result, post the accolades and share our wins. Yet, as Nappytabs shares in Episode 11, "It's more than just being the best dancer. You must do it because you love the art. You would do it whether you booked the job or you didn't".
Know Your Worth:

If you choose a career in dance, rejection is unavoidable. Subjective opinions and type casting are real. And yet, those experiences do not have to destroy or distract you. If you develop a sense of personal identity outside of dance, if you root your soul and mindset within growth, curiosity and possibility, the "no" or "not good enough" doesn't steal your love of dance. In episode 100, Stacey Tookey shares her audition experience where the Director asks every dancer to "show me who you are". When asked to stand in a spotlight and radiate you at your essence, have you done personal reflections to know your value and gifts, regardless of the music, the job, or the director? Do you know who you are without any external validation?
Support Your Community:

Nobody achieves success alone. When you are in the trenches of auditions, rehearsals, and never-ending tours, how you show up for others can be a defining component of your future opportunities. The dancers, choreographers, directors, and talent agents who are in demand are the ones who consistently show up. They show up with a positive attitude, a solution-focused mind and grateful spirit. The dancer shows up to their community wanting to contribute, wanting to support fellow professionals and wanting the project to be at its best. And at their best, they give without expectation.
Practice Connection:

Some say faith. Others say purpose. Some simply hold the optimistic belief that something good is about to happen. But whatever you want to call it, the most successful dancers and industry leaders build a practice of connection: a deep knowing about their bigger WHY. Why they are on this career path. Why they create certain projects. Why they choose to show up in particular communities. So, when obstacles show up and the rejection feels personal, they have a connection that allows them to see and believe in a bigger picture.
The Dance Podcast has shifted how I teach and what I focus on. I can no longer teach just about the body and artistry, because the fundamental component of a long-term, healthy career (and life) is how we, their educators, develop a dancer's mind.
As their educator, we must bring mental skills training work into our classes. It is our job to:
encourage their focus and love of the process

use language and actions that support failure and resilience

help them identify opportunity within obstacles

develop and nurture a sense of community
Thanks to the incredible guests, The Dance Podcast continues to be my source of professional development. Within every interview, I identify where I can focus more as a teacher, how I can communicate more effectively and, most importantly, it reconnects me to my "why".
---
Lauren Ritchie has been studying, researching, and educating dancers on the physical, emotional and mental intricacies of dance. Lauren has made it her life's work to support dancers to be their best – mind, body and spirit. Recognizing the lack of mental skills training in dance, Lauren has created programs and exercises dedicated to educating and empowering dancers mental health and fitness to optimize their training. From her MEd in Coaching Studies to a BA in Professional Communications, to multiple Yoga certifications and an accredited Art & Science of Coaching Certification, Lauren has a unique blend of education and resources that offer a holistic training approach for dancers.
Lauren has firsthand knowledge of the attributes required to achieve and sustain peak performance. She was a highly competitive and decorated dancer having classically trained in ballet, jazz, tap and lyrical.
After completing her A.R.A.D, Lauren knew she "wanted to dance" but had little guidance and awareness of the true process of transitioning into a professional dance career. This is why Lauren has created and hosts The Dance Podcast; an invaluable resource dedicated to inspire and educate dancers, teachers, and parents through candid conversations with industry professionals.
Lauren is an established facilitator and speaker, delivering workshops to prestigious schools and training programs like the Alberta Ballet School and Harbour Dance Centre. She is the co-founder of the Dance Teacher reTREAT AND has also facilitated and contributed to the DTRC's on the Move workshops speaking to aspiring dancers in Calgary. Her career achievements had also been recognized as she was a recipient of the Edmontonian's Top 20 under 30.
Lauren's engaging and encouraging teaching style has inspired dance teachers and students across the country to use dance as a practice of high-performance living and an exploration of their unique self.